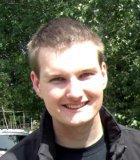 Researcher, Dipl.-Ing. Dr.
Christian Doppler Laboratory on Monitoring and
Evolution of Very-Large-Scale Software Systems
Johannes Kepler University
Altenberger Strasse 69
4040 Linz, Austria
Research Areas: Performance Analysis, Virtual Machines, Hardware Tracing, Virtualization, Visualization
Teaching
Supervised theses and student projects:
Portable Tracing of Lock Contention in Java Applications, Master's Thesis, Andreas Schörgenhumer, (ongoing).
Runtime Analysis of High-Level Java Synchronization Mechanisms on the Virtual Machine Level, Master's Thesis, David Gnedt, 2016.
Visualization of Lock Contention Event Traces, Student Project (Praktikum), Andreas Schörgenhumer, 2015.
Fast Profiling in the HotSpot Java VM with Incremental Stack Tracing and Partial Safepoints, Bachelor's Thesis (and Student Project, "Praktikum"), David Gnedt, 2014.
Steal Time Accounting in Virtual Machines, Student Project (Praktikum), Florian Hörschläger, 2014.
Instrumentation of Dynamically Generated .NET Code for Performance Analysis, Master's Thesis, Bernhard Prügl, 2013.